2.

IPU hardware overview

The IPU is based on a highly parallel architecture designed to accelerate machine learning applications. It provides very high floating-point performance on mixed-precision floating-point data. The floating-point calculations are performed in either IEEE 754 single-precision floating-point or half-precision floating-point. The white paper contains details about all aspects of IPU floating-point number representation and arithmetic.

The IPU has a unique memory architecture consisting of large amounts of In-Processor-Memory™ within the IPU made up of SRAM (organised as a set of smaller independent distributed memory units) and a set of attached DRAM chips which can transfer to the In-Processor-Memory via explicit copies within the software. The memory contained in the external DRAM chips is referred to as Streaming Memory™. This memory organisation allows very fast and flexible data communication using In-Processor-Memory, which can hold much more data within the IPU than other processors, whilst also having the ability to use the Streaming Memory for a large data store.

IPUs are used alongside either one or several host computers which load code onto one or more IPUs and then instruct them to execute that code. This allows the host(s) to offload computation tasks to the IPUs. The IPUs can then transfer data to and from the host memory.

The IPU-Machine (Fig. 2.1) is a compute platform consisting of a 1U chassis that includes four IPUs and up to 260 GB of memory. IPU-Machines are used as building blocks to make larger compute Pod systems such as the Bow Pod16 which has 4 Bow-2000 IPU-Machines or the Bow Pod256 which has 64 Bow-2000 IPU-Machines.

A single IPU can carry out a wide range of machine learning or artificial intelligence tasks. Multiple IPUs can be used together on a single task. In this case they communicate through the IPU-Fabric, which consists of IPU-Links for directly connecting IPUs and GW-Links for connecting racks of IPU-Machines via the IPU-Gateways.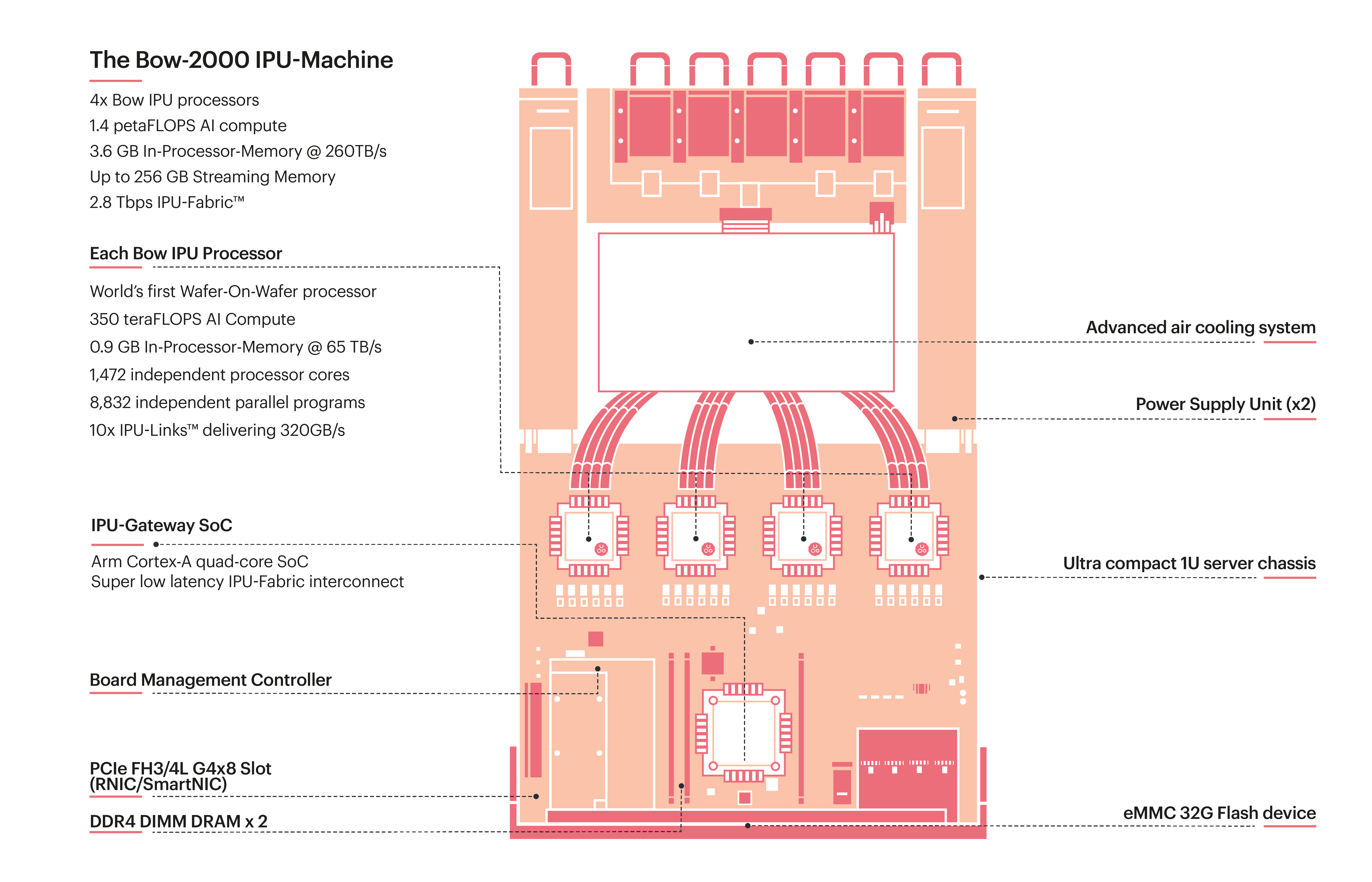 The IPU itself (Fig. 2.2) is made up of many independent processing units, called tiles (Section 2.3, Tile architecture). All the tiles are connected to an ultra-fast, all-to-all communication network called the exchange fabric. When multiple IPUs are connected together, the exchange fabric extends to all tiles on all of the IPUs.